When you choose The Trusted Lab, you are guaranteed lab tested and safe Organic CBD Products. You are also helping more than yourself.
By purchasing Organic CBD Products, you are supporting a company of farmers and producers who work hard to exceed regulatory standards. Because we all believe in organic, sustainable farming and in growing great quality ingredients for safe products made in America.
Did you know that a lot of the cheaper CBD products come from hemp grown in Canada, Asia, and China under mysterious conditions, unknown rules and regulations, and under questionable farming and employment practices? 
Did you know that people selling Hemp oil or other CBD oils at a fraction of the cost are basically selling you coconut oil with little to no concentration of CBD? 
We believe this is unfair to you and to anyone seeking to improve their overall well-being. This is why we founded The Trusted Lab. 
At The Trusted Lab, we know that being #1 starts with the soil. That is why we support licensed, sustainable and organic farmers who work hard to provide you with the best quality ingredients found in our Organic CBD Products. 
We believe in hard work, dedication, and integrity, this is why we obsess about the quality and safety of our products. 
The Trusted Lab CBD CO2 supercritical extraction process is based on years of scientific research to bring out the best in pharmaceutical grade products. This means we produce our products under the same high standards and regulations as those required of pharmaceutical companies. We take quality control very seriously. All of our tinctures undergo standard inspection at every stage of the production process–from the soil where we grow our crops to the moment we ship it to you.
Our extraction technology allows products with up to 80% concentration of CBD without THC. Why is this important? Because you are truly getting Organic CBD Products. You have probably seen "hemp oil" products as well as other CBD products advertised at high concentrations at very low prices. Why? Because they contain little to no CBD. Buying these products is the same as buying a bottle of coconut oil and calling it Hemp Oil or CBD. 
Our hope is to bring you the highest quality CBD products in the market at fair prices. Also, to help consumers stop supporting misleading brands. Brands that provide none of the ingredients necessary to make an impact on their customer's wellness.
All of The Trusted Lab products are designed with the consumer in mind–to bring truth, confidence, and safety where there is uncertainty.

 
The Trusted Lab's tinctures–our high purity, broad spectrum and full spectrum CBD oils are available in a wide range of potency, starting at 300 mg up to 4500 mg. All of our products are third-party tested. This ensures they are free of pesticides, solvent residues, and heavy metals. We also have the capacity to produce "made to order" tinctures for consumers who are looking for a unique product.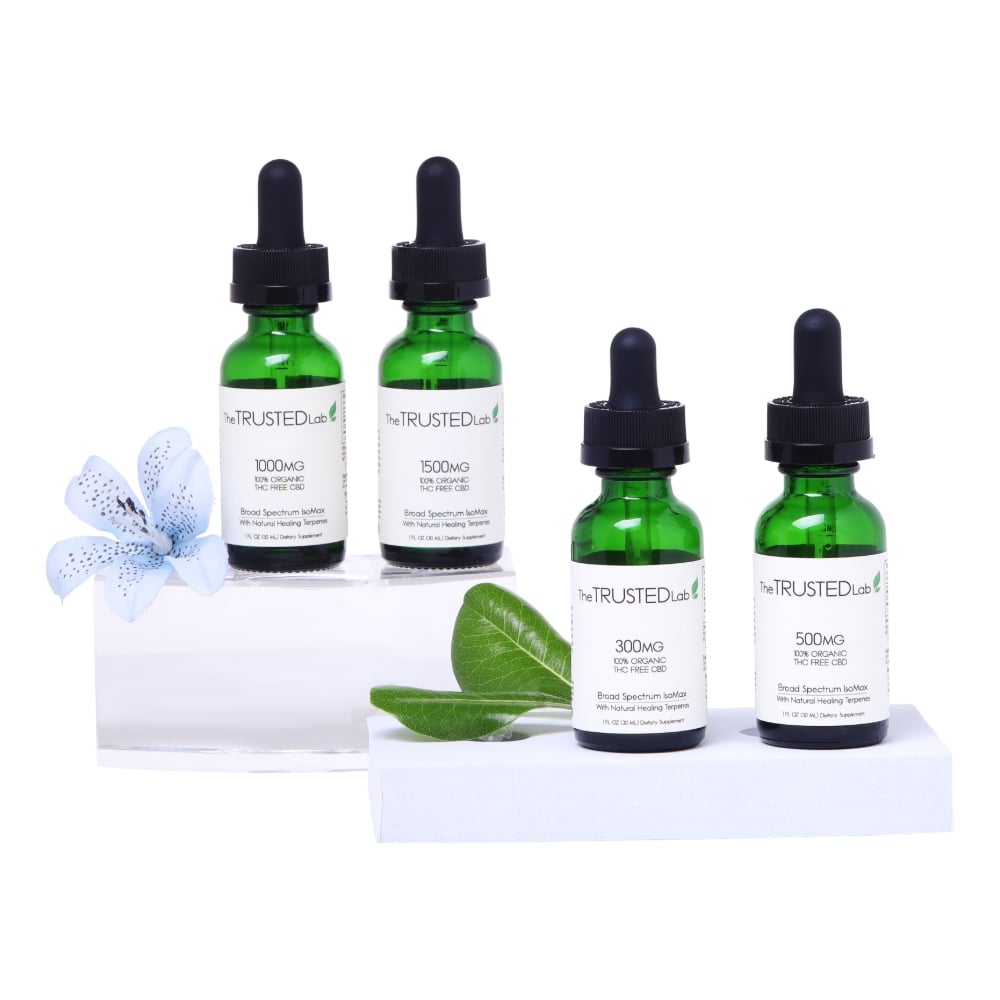 Our gummies contain high potency CBD extract- not just "sprinkled". Infusion ensures you can actually experience the many reported benefits of Organic CBD Products. 
Our creams contain full spectrum CBD, thus giving you a topical and fast absorbing solution for targeted pain relief. 
All of our innovative processes and technology along with our personal values of quality, integrity, and safety allow formulations that result in a better product for you. These are some of the many reasons why The Trusted Lab is the #1 CBD producer. 
When you purchase Organic CBD Products from The Trusted Lab you can rest assured you are purchasing from a group of farmers, scientists, and researchers that obsess over the quality and safety of their products. Because you deserve the best Organic CBD Products on the market, we commit to bringing those products to you.
Experience the amazing powers of The Trusted Lab's incredible Organic CBD Products. 
To your health, 
The Trusted Lab Team